Master free shipping!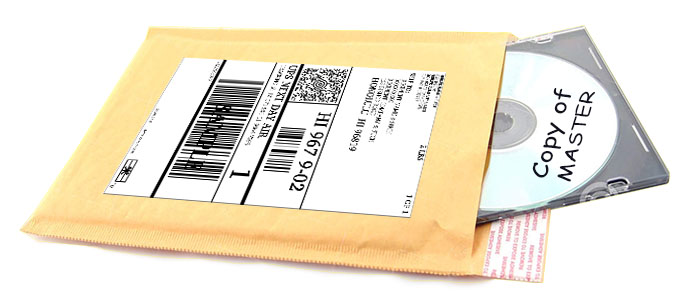 Placing your order
Feel free to contact us with any questions or concerns at any point during this process.
Once you complete placing your order, you will receive order confirmation email receipt with your order-ID#.
CD / DVD Replication, CD / DVD Duplication, Audio Mastering and DVD Authoring orders over $200 qualify for prepaid UPS mailing label, paid by Abet Disc, will be email to you, print the label, stick it, and drop off a copy of your master disc at any UPS location near you (master disc will not be returned). You may upload your artwork online or mail it in together with your master. More Order Placing Info.
REVIEW!
"I just wanted to drop a note of thanks to all of you. It is rare to find a company that responds right away, that knows what they are doing, that provides outstanding support and can follow directions. This project was a nightmare for me and you guys kept up with all of the changes, you advised me and got me through. Thank you so much for doing such a wonderful job! The product looks absolutely amazing and everything is where it should be!! Thanks! —Cooking Hawaiian Style"
Read more reviews
Easy Drop-off / Pick-up
If you prefer to pick-up, Abet Disc makes it easy Pick-up / Drop-off
Answers
Need help with design? visit our useful design tips page. Use Abet Disc layout templates to assist you with sizes and dimensions. Visit our templates page You still have questions? visit our FAQs page.
Optical Disc Manufacturing, CD / DVD Duplication, CD / DVD Replication, Printing, Graphic Design, Audio Mastering, DVD Authoring services USA Nationwide, free pickup / Drop off in Arcadia near Pasadena, Monrovia, Hollywood, Glendale, Studio City, Burbank, Los Angeles California.