Audio Mastering
Stereo Image
Abet Disc professional audio mastering engineers improve and help the stereo image of a mix "the sound ambience" (the atmosphere / size of a mix),
Help define each instrument's place in the stereo image (improving the sound stage), making the stereo image "wider" (stereo enhancement),
Improving and maintaining audio level dynamics, harmonic balance, adding clarity and presence, using all available loudness potential of a mix, while preventing audio distortions "clipping" in the process (achieving loudness without ruining dynamics).
Why you need a Pro Mastering Engineer?
As an Artist, Producer, Recording and Mixing engineer, you spent countless hours recording, mixing, perfecting a final mix, it is very helpful to have a fresh set of experienced ears, to help make a final master much more pleasurable for listening, regardless of playback system and the environment.
Soundtrack music : Celebrate New Life by artist Avo,
Visit www.GoAvo.com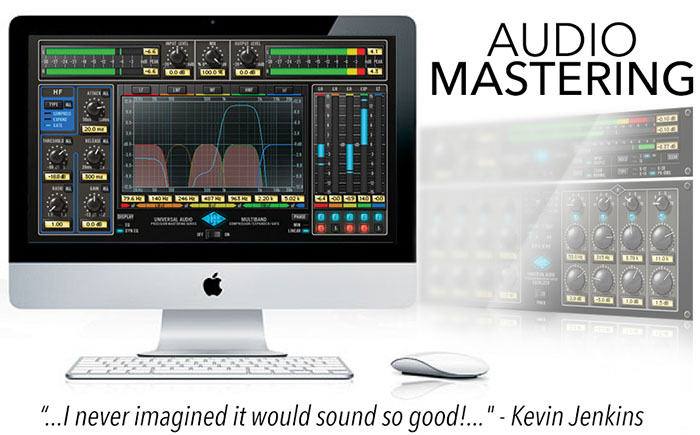 Request a Quote!
REVIEW
"Hi there, I just received the master disc. Everything sounds great. So big and clean sounding. Thank you for all of your hard work on this." — Frankie + Rufus
Analog warmth in a digital world
Complete Audio Mastering
During mastering, a professional engineer optimizes your mix by using EQ, Dynamics, Wide Stereo Imaging, Normalizing, Optimizing so your album can compete with any major label release. We deliver professional quality high-resolution audio mastering at prices independent artists can afford.

CD Text
We'll add Track titles artist/band name Barcode and ISRC codes to your album.
Album Tune-Up
We'll adjust track levels and/or change your track sequence and spacing. Adding track titles artist/band name, Barcode and ISRC codes.
You Supply
A mixed down stereo master, we recommend a high-resolution format such as WAV or AIFF files in 24-bit, 44.1 kHz. Low-resolution file formats such as MP3, AAC, or WMA are not recommended.
Audio Mastering Sample
For best results, please listen to these sample videos in HD, in your studio environment, or with high quality headphones.
Before & After Sample
Audio Mastering Before & After Sample
Music Mastering Before & After Sample
DVD Audio Mastering Before & After Sample.
REVIEW
"Hey guys, just wanted to thank you, Hawaiian Treasure sounds beautifully warm and full. The edges blend perfectly, Amazing job!!! I'm extremely pleased with the quality of your work. I received samples from 3 different mastering engineers, and yours is simply the best, and your prices are unbelievable! I love your customer service skills and quick responses thanks again, it's a blessing to have a dedicated professionals to work with. -CM"
Professional Audio Mastering has never been this affordable
Abet Disc is your Audio Mastering connection for all music genres. Audio Mastering is the last creative step before cd duplication the last chance to optimize your recorded performance and take your project to pro level. Our expert mastering engineers and top-quality mastering equipment will make sure your music is ready for commercial release.
CD Mastering is it necessary?
In the recording and mixing phases of an album project, the artist, the producer and the engineers record one song at a time, and all the focus is to record and mix each song as best as possible. The result, however, is generally a collection of songs that all peak at different levels and may have different EQs.
In the mastering phase, a professional mastering engineer unifies the album CD by using EQ phasers, Limiters and other dynamics processing to give it a consistent sound from track to track.
In addition, mastering can raise your album's overall level through the careful use of tools like Compressors, Maximizers and Limiters with higher sampling rate not necessarily in that order.
The mastering engineer also ensures that your music will sound great – whether it's being played through a car stereo, a portable CD player, MP3 or a top-of-the-line stereo system.
A fresh pair of ears can be the difference between a good-sounding album CD and a great one.
What is audio mastering?
Audio Mastering is the final critical creative step in the process of making a master audio recording ready for Radio, TV, Movie and Multimedia. At this point all the final sound adjustments, stereo imaging improvements and sonic enhancements are applied to shape the final sound in to a coherent and sophisticated work of art.
One of the important advantages of Mastering is that an unbiased professional mastering engineer has the opportunity to evaluate a bounce mix and determine how to get the most out of the project. After months or even years in a recording studio listening to the same tracks over and over again, a fresh pair of ears can put the project into perspective.
Why do I need professional mastering?
In competitive music business market today with continuous demand of higher quality and the ongoing evolution of digital technology, make mastering an indispensable step in any Music, Movie and Multimedia project. Our years of experience and unique techniques are counted on by our clients to gain the necessary competitive edge for the successes of their CD, DVD, Multimedia, TV and Radio releases.
Do demos need mastering?
Demo mastering is a standard practice in today's highly competitive music market. A&R departments at independent and major record labels are flooded everyday with new demos from aspiring artists. In most cases, your music production and sound quality is closely scrutinized to weed out weak product. Mastering of demos is an indispensable step to give an artist an extra edge over the competition.
Do commercials/jingles need mastering?
Commercials are mastered to increase legibility of speech and narration with extended frequency response, maximized loudness and balanced dynamics.  Clients that master their commercials are experiencing increasing effectiveness of their efforts.  Properly mastered radio and TV commercials stand out from the rest of the program and immediately grab and hold the customer's attentions by facilitating legibility, loudness and powerful emotional impact even if the customer have turned his/her attention away from the radio or TV during the commercial break, while those who don't are continuously losing their impact on the market place and releasing the market share to their competitors.
REVIEW
"My American debut album FULL MOONS OVER PANDEMONIA is a double CD. I came to ABET disc looking for replication (and, hoping for, mastering assistance). I had already checked just about everybody else out. No one could accommodate my idea of a short-run double album. Mastering fees ran from the outrageous to the ridiculous. I was delighted to find that ABET was the affordable One-Stop-Shop I didn't believe existed! Brilliantly assisted by ABET's Tony, I ended up with a miraculously mastered, stunningly packaged album at an absolute bargain price. Tony – big, phat THNX!! YOU DE MAN!!!" – Lars Frykholm
The work flow of making a CD
Making a CD generally involves four steps:
Recording. This is the process of capturing your performance onto a physical medium like multi-track analog real tape or a Digital computer's hard disk.
Mixing. This is the process of blending together multiple recorded tracks using a hardware mixing console or a recording software; the usual result is a two-channel, 44.1 kHz 24-bit stereo mix.
Mastering. In this phase, your recording is optimized, balanced, equalized, and enhanced so your finished product will more competitive in the marketplace.
Manufacturing. In this final step, your digital audio CD master is transferred to a glass master and thousands of copies are replicated. If you're not mastering your recording, you are leaving out a crucial step in the making of your CD. Mastering your CD makes your recording the most commercially competitive it can be, and bridging the technological gap between the recording studio and the listener's stereo system. Mastering can make a huge difference in the competitiveness and musical value of your project.
Why use Abet Disc Mastering?
Quality
Abet Disc offers world-class CD Mastering that makes your music ready for commercial release. Our industry-leading mastering studio offers some of the most advanced audio mastering techniques and genres only available to professional industry.
Care
Your job will receive the individual care and attention it deserves. At Abet Disc we are committed to quality and customer satisfaction, and our work is not complete until you are 100% satisfied.
Rates
Our rates are targeted and set for our customers – independent artists. Abet Disc gives you access to the same industry-leading mastering engineers and equipment at a fraction of the price of the world's other top CD mastering houses.
Audio Mastering service, audio mastering studio located in Arcadia near Pasadena, Monrovia, Hollywood, Glendale, Studio City, Burbank, Los Angeles California.