What is a DVD Menu Design?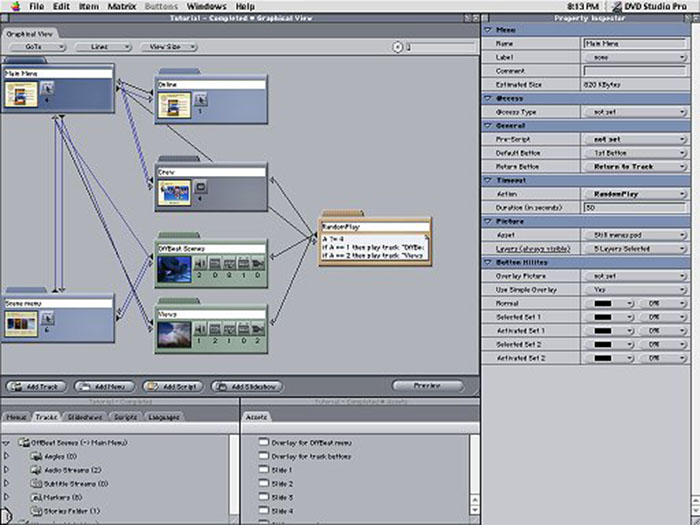 When you place a DVD into a player, the first thing that you will normally see is a menu. Our professionals take into account the needs of your project to help you decide on the DVD menu design. Many DVD menu designs include the Play, Play All, Subtitles, Sound Options, Extras and many other options on the main menu. Each of these sub menus would not be present without DVD menu design. There are a few general templates that are used in DVD authoring software, and these can include sound and motion from the footage included, but generally are limited as to what options you can use. Custom DVD menu design allows you to choose what you want the menu to look like, colors, and options and sub menus.
The DVD menu design you choose will be completed by one of our professionals that is knowledgeable in the areas of video, DVD authoring and graphic design, so that your finished project will work as you wish and will also have a professional appearance. Before the authoring is complete, we will even send you a PDF file through your email so that you can look at it beforehand and approve or disprove it. You can design your own menu using some of our options, or you can choose from readymade templates that will create a professional appearance for your project. Designing your own menus gives you the choice of adding options or taking away options from the menu or sub menus on your DVD project, but we still have guidelines that are in place for your project. This simply means that there must be a menu, and there are certain aspects of the menu that cannot be taken away, but can be altered to suit your needs.
We offer a wide array of packages for DVD authoring that includes DVD menu designs, and you are in charge of your project. DVD menu designs are available for your perusal, and if you see a menu on another disc you like, let us know. We are more than willing to work with your design and help you create the DVD you envision.
DVD Audio Mastering
DVD Authoring Packages
Basic
DVD encoding: no menu, auto play with auto chapters.
Deluxe
DVD encoding, single menu design, play all feature, 5 custom chapter points with static or motion video thumbnails.
Gold
DVD encoding, 1 main and 1 sub menu design, play all feature, up to 10 custom chapter points with static thumbnails or 6 motion video thumbnails.
Platinum
DVD encoding, with motion menu: 30-second motion main menu (created from a clip in the movie), 1 static sub menu with design, play all feature, up to 10 custom chapter points with static or 10 motion video thumbnails.