cd-r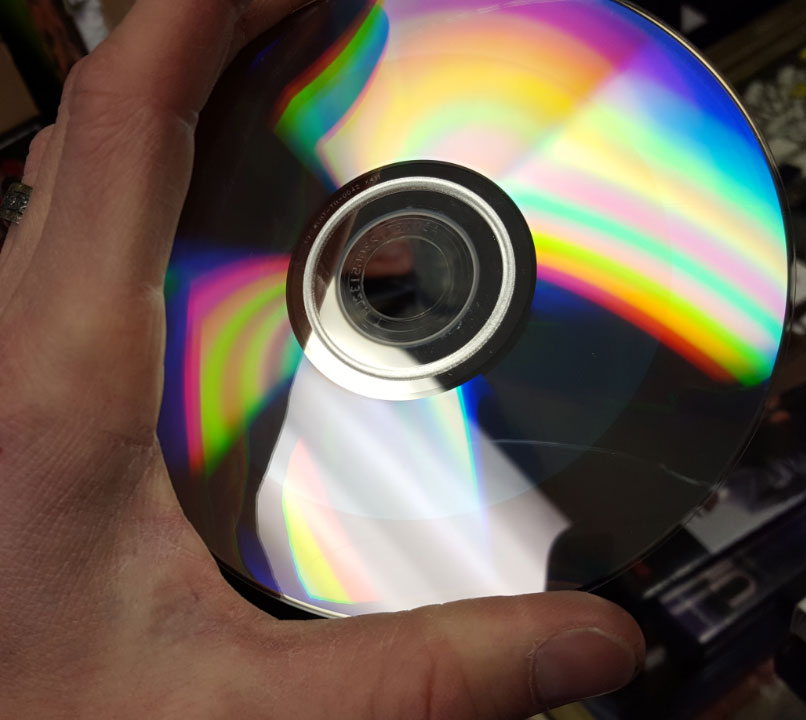 Duplication
Unlike Replicated discs, Duplicated discs "CD-R / DVD-R" are very easy to scratch, but only deep/heavy scratches can effect playability. It is very important to take great care, you can clean the bottom of the disc with a soft cleaning damp cloth.
Also some players don't play all CD-R / DVD-R, we use the best and the most compatible (A-Grade) recordable-disc-media available in the market.
For the most durable and compatible disc-media, consider replication, replicated discs are more durable and compatible with all players.
Replication
The difference between Duplication and Replication processes is that the former records data sequentially onto a disc, while the latter uses a stamping process that transfers the information all at once.
Replication, or Compact Disc Manufacturing, process used by Abet Disc ensures that every copy of your original master disc is replicated with the utmost precision and accuracy.
First, a laser is used to etch a duplicate of your original master onto a glass plate. This plate is too fragile to be used for replication, so it is primarily used to make metal "stampers," which can then be used to replicate your original master.
The next step uses electroforming to plate the glass base with metal, which copies all the pits and lands of the original master disc onto the new, "Father stamper." From there, the Father stamper becomes "the master copy," so to speak, and is used to make replicas.
This is done by inserting the stamper into an automatic injection machine, which uses thermoplastic polymer substance to create a plastic-disc replica of the Father disc. It can make many such discs in a relatively short period of time, which is why Replication is typically used for quantities of 300 and more.
The plastic replica made in the injection machine is actually transparent, and cannot be read by a player – the laser beam goes right through it. Therefore, a very thin aluminum coat is applied to its surface, which is then covered with protective lacquer against scratches.
This highly intricate process requires accuracy and experience with the chemical components involved, so as to ensure that the transfer of data goes very smoothly. The coordination of all the steps in the process has to be quite precise too. Afterward, each finished Disc is then put through a very high-quality full-color offset on-disc printing process. The best part is that, unlike some competitors, Abet Disc does not charge extra for the full-color printing!
More Info.
CD Duplication in Los Angeles with industry-leading quality, quick turnaround times and Low Price Promise, you can feel confident that Abet Disc is your very best choice.
CD Duplication services in Los Angeles by Abet Disc is perfect for you if you have a master disc with audio or data files on it, and you need them copied onto multiple CDs.
One important thing to remember is that when you send in your master disc, it will be copied exactly as-is, so be sure that no changes need to be made to your data. Place all your data and songs / music in the desired order, and we will make as many copies of it as you wish!
Whether you are looking for music, audio, or data CD Duplication in Los Angeles, choosing a professional company to handle this process for you carries many advantages!
For example, professional equipment used for CD Duplication in Los Angeles allows Abet Disc to quickly produce high-quality copies of your CDs at very competitive rates. The great thing about CD Duplication in Los Angeles is that it can be used to make a smaller quantity (hundreds) of copies of your original CD. CD Duplication Los Angeles
With our industry-leading quality, quick turnaround times and Low Price Promise, you can feel confident that Abet Disc is your very best choice.

REVIEW!
"Thanks, got the CD's on Thursday just in time. They look great as usual. Everyone was super stoked." -Matt
Another great feature offered by Abet Disc is the "thermal on-disc printing" for your CD's graphics.
Unlike other companies that use ink-jet printing to duplicate your artwork, we utilize a two-step process, which uses heat and pressure, to transfer wax-based ink onto a CD. This results in the highest-quality, deep color visual presentation of your graphics. In addition, thermal on-disc printing is permanent – unlike some labels that peel off over time.
As a nice bonus, Abet Disc includes a free barcode on all CD Duplication orders, and a free master disc mailing service. This is a rare find in a company that offers CD Duplication in Los Angeles!
Abet Disc has assisted clients throughout Los Angeles, CA USA, Mexico, Canada and Europe with their CD Duplication needs by offering the highest-quality, 100% guaranteed fulfillment services at the best prices! We have worked with professional musicians, film makers, and various artists who have relied on our company to deliver the best end-product copies of their CDs.