dvd-r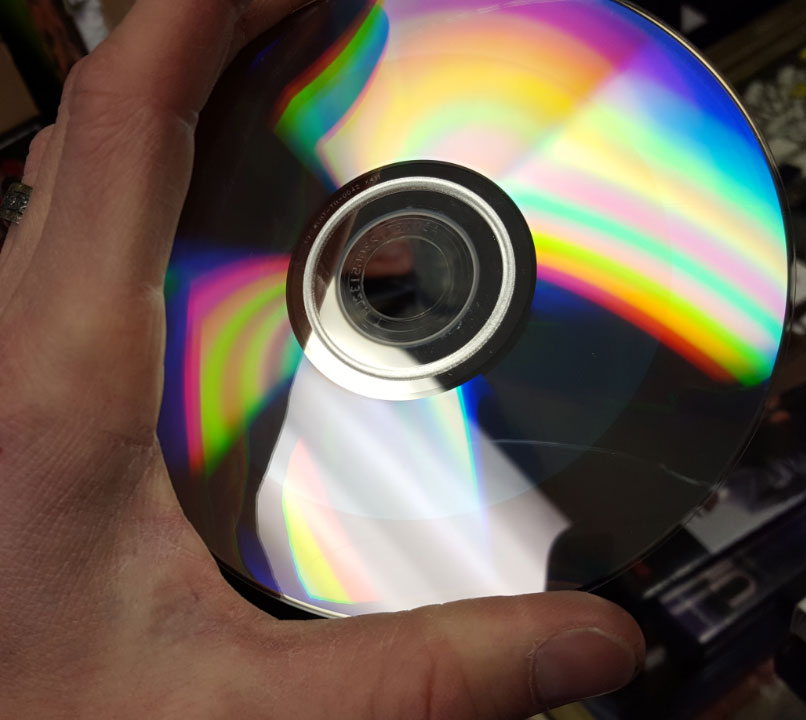 Duplication
Unlike Replicated discs, Duplicated discs "CD-R / DVD-R" are very easy to scratch, but only deep/heavy scratches can effect playability. It is very important to take great care, you can clean the bottom of the disc with a soft cleaning damp cloth.
Also some players don't play all CD-R / DVD-R, we use the best and the most compatible (A-Grade) recordable-disc-media available in the market.
For the most durable and compatible disc-media, consider replication, replicated discs are more durable and compatible with all players.
Replication
The difference between Duplication and Replication processes is that the former records data sequentially onto a disc, while the latter uses a stamping process that transfers the information all at once.
Replication, or Compact Disc Manufacturing, process used by Abet Disc ensures that every copy of your original master disc is replicated with the utmost precision and accuracy.
First, a laser is used to etch a duplicate of your original master onto a glass plate. This plate is too fragile to be used for replication, so it is primarily used to make metal "stampers," which can then be used to replicate your original master.
The next step uses electroforming to plate the glass base with metal, which copies all the pits and lands of the original master disc onto the new, "Father stamper." From there, the Father stamper becomes "the master copy," so to speak, and is used to make replicas.
This is done by inserting the stamper into an automatic injection machine, which uses thermoplastic polymer substance to create a plastic-disc replica of the Father disc. It can make many such discs in a relatively short period of time, which is why Replication is typically used for quantities of 300 and more.
The plastic replica made in the injection machine is actually transparent, and cannot be read by a player – the laser beam goes right through it. Therefore, a very thin aluminum coat is applied to its surface, which is then covered with protective lacquer against scratches.
This highly intricate process requires accuracy and experience with the chemical components involved, so as to ensure that the transfer of data goes very smoothly. The coordination of all the steps in the process has to be quite precise too. Afterward, each finished Disc is then put through a very high-quality full-color offset on-disc printing process. The best part is that, unlike some competitors, Abet Disc does not charge extra for the full-color printing!
More Info.
Professional DVD Duplication services can be used for a number of different purposes. In the corporate world, professional DVD Duplication is used to make multiple copies of various  training videos, corporate data files, in-house software, audios, and for important data backup. The same services are also used by independent filmmakers and movie studios, as well as individual artists, who make hundreds of copies of their original video and audio work.
During the DVD Duplication process, the original master disc is copied multiple times onto blank DVD-R (DigitalVideo Disc – Recordable). These discs are in a "write-once" format, which means that your recorded data cannot be changed, thus giving you an ultimate protection against anyone trying to tamper with your original work.
An important thing to note is that professionals at Abet Disc are always mindful of Copyright Laws. When we discuss your DVD Duplication order, we will be able to recommend a few ways in which you can protect your work once it is duplicated from the original.
There is certainly a lot of software available on the market that will enable you to duplicate your discs on your home computer – one copy at a time. Not only is this time consuming, but if you read software reviews, you will see that most programs come with their own quirks, to the point where you may not be able to duplicate certain DVD formats.
However, at Abet Disc, we are able to make copies of most disc formats, and customize your order to you specific needs and requirements. We also routinely conduct content and quality verification tests on all master-copy discs, to make sure that they are fully functional and up to industry standards, before we proceed with the duplication process.
If you were to attempt DVD Duplication on your own, you would first have to download the master copy onto your computer's hard drive, from which it can then be burned onto a blank DVD-R. While it is necessary to take these extra steps every time you copy a DVD, if you are not using special equipment, you may loose a noticeable amount of video and data quality in the process.
All things considered, home-based DVD burning is very time consuming – not only in copying DVDs one by one, but also in the time it takes to figure out how to make the software work exactly as you want it to. A great alternative, of course, is to use a professional DVD Duplication service offered by Abet Disc.
DVD Duplication, unlike Replication, is used to make smaller quantities of DVD copies. For instance, if you needed to quickly make a 100 or more copies of your original DVD, it would take you a lot of time to do this on your own (and end up costing a lot of money). At Abet Disc, we are able to complete the entire duplication process on your short run order with an amazing turnaround time, and at a lower cost!
Unlike DVD Replication, the duplication technology does not require extra machinery set-up time, artwork film processing, or Glass Mastering cost and delays. This allows us to produce high-quality DVD copies at a very reasonable cost to our clients.
Abet Disc also offers full-color thermal on-disc printing at no extra charge! Unlike the competitors, who often use ink-jet printing to save cost, we firmly believe that your DVD's artwork plays an important role in representing your product. Therefore, we print your graphics with the best quality full-color wax-based ink that retains all the details of your original design.
Don't forget about duplicating your DVDs' case inserts, as well as sleeves, jackets, paper sleeves, and DigiPaks. Abet Disc offers high quality "offset printing," which, unlike laser color copiers, produces the best quality imaging – you won't even know it from the original!
All of our DVD Duplication orders come with a free barcode, which is something your won't find with our competitors. Let us know when you want to mail in your master copy DVD for a duplication order, and Abet Disc will even pay for the mailing charges. Ready to get started? E-mail us today!